Results
49'er - Capt. Morgan Rum
B-Western - Calvary Kid
Classic Cowboy - Iron Horse Pete
Frontiersman - Just Plain Larry
Frontier Cartridge - Jake Mountain
Frontier Cartridge Duelist - Gun E. Bear
Frontier Cartridge Gunfighter - Dead Head
Modern - Jimmy Spurs
Senior - Ike Shotgun McCoy
Senior Duelist - Grizz Henry
Elder Statesman - Amos-T
Ladies 49'er - Single Rose
Ladies Frontier Cartridge - Miss Delaney Belle
Ladies Modern - Emma Goodcook
Ladies Senior - Ellie Mae Mountain
Young Guns Male - Sheriff Tyler
Special Award: Non-Smoker - Fly Rod

We had some beautiful weather thanks to Dead Head, the famous New England CAS weather forecaster. He challenged the Weather Gods and won! It was sunny, breezy, in the 70's and low humidity. Perfect.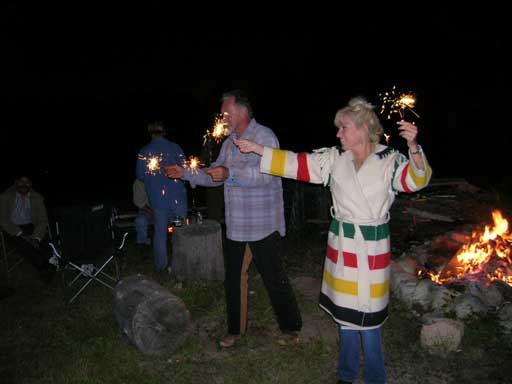 Capt Morgan Rum and Karrie Kay do the Great Buffalo Sparkler Dance around the bonfire on Saturday night.