Custom Orders ...
Can't find what you are looking for ...?
Klassic Laser Works carries many customized products and accessories that would be impossible to list.
How about this customized picture frame on the right? Think of the possibilities like presents at birthdays or holidays, youth sporting teams or events, work events or teams, etc.!
If you can't find what you need, please either e-mail us directly by clicking here or call us at 603-878-3705 (workshop) or 603-714-1164 (cell) and we'll quickly give you the various solutions available.
You can also contact us through the reliable old-fashioned way via mail, although we are on the road some of the time.
Klassic Laser Works
241 Brookline Road
Mason, NH 03048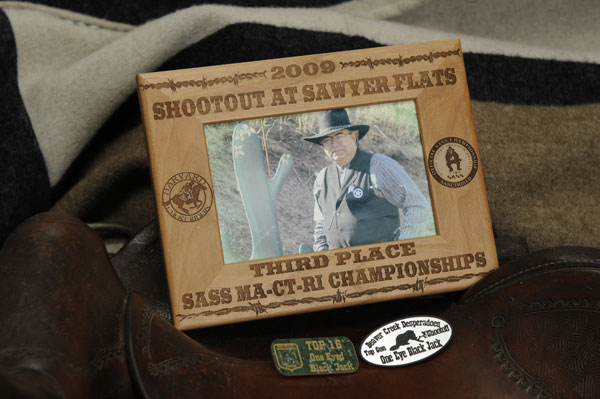 Laser engraved wood picture frame from the 2009 SASS MA/CT/RI State Championships. Photo by One Eyed Black Jack.
Thank you for your interest in our products and we look forward to speaking with you.
---
|
Home
|
Products
| Custom Orders |
Laser Engraving
|
Contact Us
|
---