Ledyard Sportsman's Club, Ledyard, CT
Come join us!
We've got a great mix of experienced shooters and new shooters and invite you to join us in the fastest-growing shooting sport in America: Cowboy Action Shooting. We have a lot of fun and will be glad to help new shooters get started.
We usually shoot 6 fun stages. Ammo: 60 Pistol, 60 Rifle, and no more than 36 shotgun. The Safety Meeting is at 9:30 a.m. You will need eye and ear protection and remember to bring a lunch or something to nibble on.
Contacts:
Gene Shanahan (Yosemite Gene) 860-536-0887 Email or
Amy Stuchell (Appaloosa Amy) 860-303-4803 Email
Shoot Dates:

May 7, 2016
No June shoot - join us at the SASS CT/MA/RI State Championships in Harvard, MA.
July 2, 2016
August 6, 2016
September 3, 2016
October 1, 2016
November 5, 2016
December 3, 2016
Appaloosa Amy's cell phone is 860-303-4803 if you get lost or have any questions.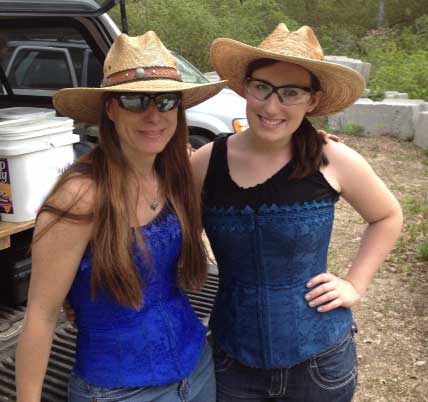 Appaloosa Amy and Snazzy McGee
---
| Home |
Directions
|
Results
|
Photos
|
Links
|
---